Education, No Matter What

The European Commission, through its Directorate-General for European Civil Protection and Humanitarian Aid Operations (DG ECHO), is launching a communication campaign to raise awareness of the importance of education in emergency situations. 
This toolkit contains materials and information that you can use to engage students at your school or educational institution. ​ 
---
1. Education, No Matter What 
Education, No Matter What is our motto for this awareness campaign. With this short, clear phrase, we want to emphasise that education is a fundamental right and an essential need for children. While humanitarian crises around the world threaten to disrupt education for children and young people, it is crucial to provide them with a brighter future, develop their full potential, and equip them with the skills and protection they need to restore their sense of normality and safety. ​ 
Education must not be interrupted, no matter how serious the crisis.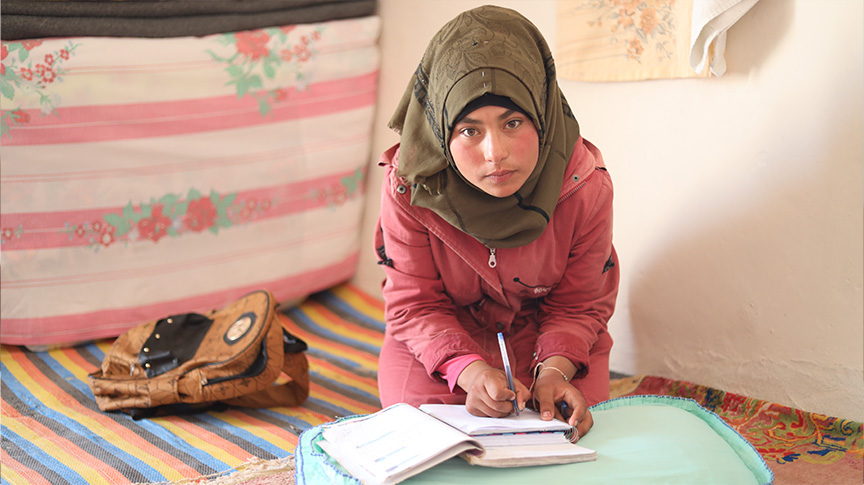 Education is the motor of change: it is powerful, and essential. Education should always be possible, no matter what. For that reason, the EU is investing in education in crisis situations around the world. ​ 
The campaign aims to help young students age 16-30 to better understand and reflect on the positive impact that EU-funded education projects have for young people in areas affected by humanitarian crises, through both long and short-form documentaries, and a documentary pitch competition. 
If you would like more info on the campaign, you can visit the website and find out more about what the EU is doing to support education in emergencies. 
Information for Teachers
PPTX - 46 Mb
Download
---
2. School screenings of the documentary
A 12-minute documentary has been produced in collaboration with the renowned documentary makers Olivier Jobard and Claire Billet ​ part of the Agency MYOP MYOP. ​ 
This documentary will be screened at humanitarian film festivals to stimulate debate about the importance of education in crisis situations. You can find the list of festivals on the campaign website. 
We are inviting schools and educational institutions to host screenings of the documentary from May 2023 onwards. 
Watch the trailer and the full documentary here:
→ Would you like to organize a screening with your students
Perhaps with an introduction by a representative of the European Commission or followed by a debate on the importance of Education, No Matter What? Please just get in touch with us by email. We will provide you with the documentary and can also help you organise your event. 
---
3. Take part in the Education in Motion video Competition
This competition gives young Europeans the opportunity to reflect on the importance of education, pitch their idea for a documentary on the topic and – for the lucky winner – produce a 5-10-minute documentary in collaboration with VICE World News.
APPLICATIONS ARE CLOSED
The winner will be announced in spring 2023.
---
4. Watch more videos about education in crisis context:
Marie_Burkina Faso_ EN _15'.mp4
MP4 - 29 Mb
Download
Hanan_Syria_EN_15'.mp4
MP4 - 29 Mb
Download
Sonia_Ukraine_EN_15'.mp4
MP4 - 29 Mb
Download
Marie, Burkina Faso_EN
MP4 - 60 Mb
Download
Hanan, Syria_EN
MP4 - 65 Mb
Download
Sonia, Ukraine_EN
MP4 - 78 Mb
Download
---
5. Key visuals
Education in emergency_Burkina_kvisuals_EN.pdf
PDF - 2.6 Mb
Download
Education in emergency_Syria_kvisuals_EN.pdf
PDF - 1.5 Mb
Download
Education in emergency_Ukraine_kvisuals_EN.pdf
PDF - 2.4 Mb
Download
---
6. ​ #EducationNoMatterWhat Social Media posts 
​ ​ ​ ​ ​ ​ ​ ​ ​ ​ (1) FACEBOOK and INSTAGRAM POST
Daryna, Sonya and Mykyta come from Irpin, Ukraine. They are the tenacious protagonists of @eu_echo short documentary: 'When I Grow Up', part of #EducationNoMatterWhat campaign.
​​
​They are inspiring voices for all children in conflict zones, as the horror of war can't stop them from dreaming of a better future. 🙏
​​
​'When I Grow Up' will be shown in 13 festivals across Europe, starting with @zagrebdox festival this week.
You can also watch it online here: Education, no matter what (europa.eu)
​ ​ ​ ​ ​ ​ ​ ​ ​ ​ (2) FACEBOOK POST
Imagine that your right to access education would be taken away from you...How would you feel❔ 
Unfortunately, that's what happens to many children caught in humanitarian crises: they find themselves deprived of their right to learn in a safe and welcoming classroom. ​ 
For the EU🇪🇺, this is unacceptable. For this reason, @EUCivilProtection&HumanitarianAid helps millions of children by providing access to #EducationNoMatterWhat 📚 
👉 Find out more about how learners manage to get back to their habits thanks to their inner strength alongside the EU humanitarian aid. ​ 
#EducationNoMatterWhat 
#EducationInEmergencies 
 ​ ​ ​ ​ ​ ​ ​ ​ ​ ​ ​ (3) INSTAGRAM POST
Have you heard about #EducationNoMatterWhat ❓ 
It's the new @eu_echo campaign that focuses on the challenges that millions of students living in humanitarian crises face every day. ​ 
The European Union is a major aid donor when it comes to education: learn about how it helps students – just like you – to continue studying 📙📗📘 no matter what: discover the campaign, click the link in bio! ​ 
#EducationNoMatterWhat 
#EducationInEmergencies 
---
Follow us:
Thank you for spreading the word! 
---
Privacy notice
We contact you in relation to the Campaign on the EU Humanitarian Aid operation: #EducationNoMatterWhat. We believe this would interest you considering your field of activity. We obtained your contact information from public records or through direct contact with your organization within the framework of this campaign. More information on how your personal data is processed you find here. If you do not wish to be contacted about this topic or you change your mind at any time, feel free to unsubscribe by replying to this email.